Do It Yourself Plumbing or Call a Professional Plumbing Contractor?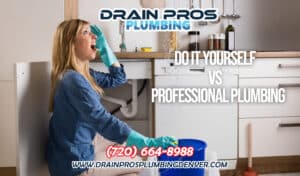 It is by all accounts the manner in which we live today-approaching Siri or going to YouTube for guidelines on the most proficient method to settle everything from how to succeed at Poker to how to fix plumbing. There are several recordings on different sites to help the Do-It-Yourself, yet it's essential to realize when to call a Professional Plumber in Denver.
Do It Without anyone's help Plumbing 
DIY Plumbing can incorporate things that don't require a permit so as to make the fixes. These are errands you can do or can feel great asking your preferred jack of all trades or even accommodating your neighbor. Follow the connections for supportive recordings:
Unplugging a clogged tub

: Tubs can easily clog with hair, and chemical drain clearing products are mostly ineffective, caustic and dangerous. Instead, try this technique to get those clogs out. During your annual sewer line cleaning, ask for them to run any additional drains, such as a tub or sink that seem to clog easily. There is usually a discount and it makes certain the entire length of the line is clear.

Flushing a water heater

: Sometimes a water heater needs to be flushed to remove sediment that is keeping it from working properly. Flushing it will extend the life of the water heater in these cases. Please note that flushing a water heater is best done by a plumbing repair service when there is any chance of flooding a lower level or a finished space.

Clearing a P-trap

: Sinks can also clog easily, or very frequently, we can lose objects such as earrings, rings, or even toothpaste caps. Clearing the p-trap can help you resolve the matter, and hopefully save the run-away object.

Shutting off your main water supply

: In the case of a major leak, it is critical to turn off your water right away to prevent flooding and water waste. If you go out of town and experience a pipe bursting, it is important that anyone watching your home knows how to turn it off as well.

Relighting your pilot light

: Cold showers are awful! Be sure to know how to check your water heater's pilot light and be able to relight it. If it continues to not stay lit, a call to a plumbing repair service is in order to see what is causing the problem and how to fix it.

Resetting your garbage disposal

: Sometimes when a garbage disposal stops working, it just needs to be reset. Follow these instructions to reset your garbage disposal. If this doesn't work, call a professional plumber for them to further assess the problem.
Conclusion
There are several plumbing issues that you might solve by yourself following tips from any video or blog, problems such as faucet installation and sink clogging can be dealt with by one's self. But there are times when employing a Professional Plumbing Contractor becomes a must. You must never attempt to solve such problems by yourself. Contact us today, our expert plumbers at Drain Pros Plumbing can help.