LINCOLN PARK DENVER PLUMBER
Plumbers in Lincoln Park Denver
Honest, Local & Knowledgeable Plumbers
Lincoln Park Plumber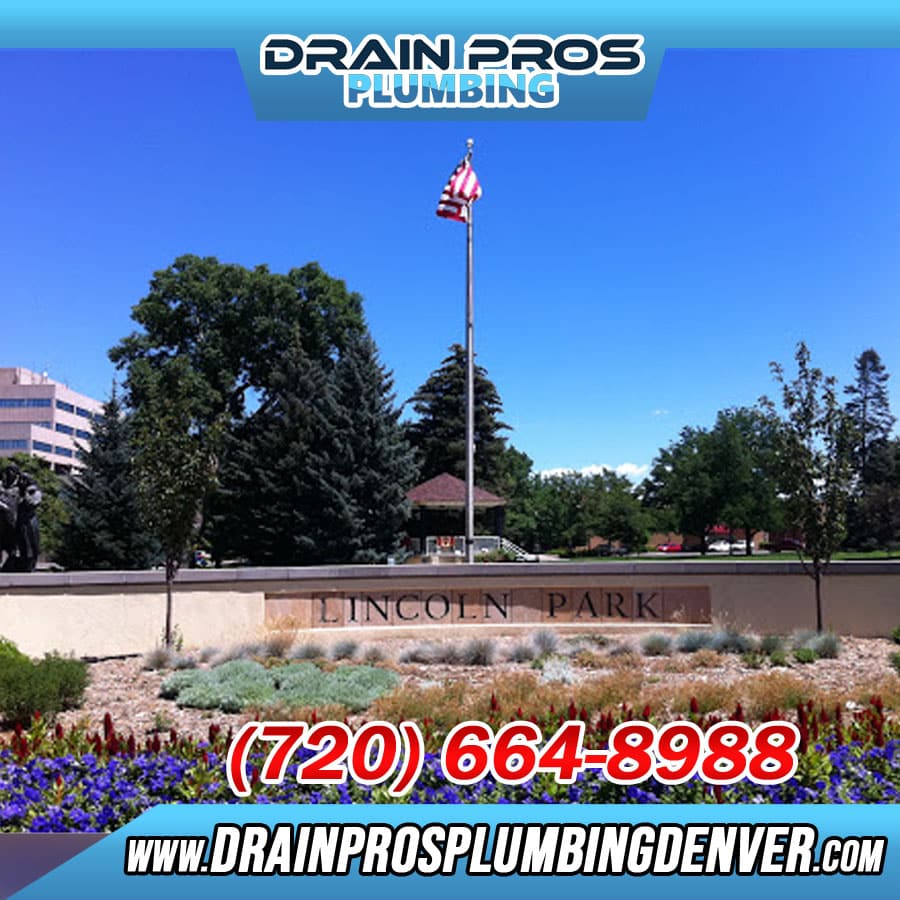 If you are looking for a quality Lincoln Park plumber you can trust, Drain Pros Plumbing is here for you. For years, Drain Pros Plumbing has been employing experienced Lincoln Park plumbers who are fully qualified to handle all kinds of commercial and residential plumbing jobs. With emergency service repairs available every single day of the week, 24 hours a day, getting an expert plumber on the job has never been simpler. All of our technicians are not contracted out, but employees of Drain Pros Plumbing. So, when you call us for a plumbing repair or installation, you are getting a technician that is held to the same ethical and work standards that you expect from Drain Pros Plumbing.
As experts in all areas of plumbing and drains, Drain Pros Plumbing Lincoln Park plumbers are well regarded for getting the job done in a timely fashion, while still remaining cost effective. A family-operated business, Drain Pros Plumbing is interested in satisfying customers every single time, through low prices and a level of workmanship that ensures customer satisfaction.
At Drain Pros Plumbing, our dedicated team can handle any type of plumbing, installation, or repair issue large or small. From conventional to tankless water heaters, and gas lines to water filtration systems, there is nothing that a Drain Pros Plumbing plumber cannot handle. They can clean drains and repair pipes, locate and repair slab leaks, and perform appliance hookups. Backflow prevention and hydro-jetting operations also fall well within their areas of expertise. And they are even able to perform professional sewer camera inspections. Truly, there is nothing that a Drain Pros Plumbing plumber cannot do.
With Drain Pros Plumbing available for all of your plumbing needs, there is no reason to suffer through any plumbing issue. A simple call is all it takes to bring in an expert Lincoln Park plumber for consultation and repairs. With Drain Pros Plumbing on the job, receiving high quality plumbing service is a snap.
To schedule an appointment or receive a free estimate with an exceptional plumber, please contact us at (720) 664-8988.
About Lincoln Park
Lincoln Park is an area and public park near to midtown Denver, Colorado and the place of the Art District on Santa Fe. The area is just one of Denver's earliest and also is just to the south of the area where Denver was first resolved in the 1850s. Lots of residences date from about 1900. The neighborhood is in some cases called "La Alma/Lincoln Park" or the West Side.
The borders of the area are 6th Opportunity at the south end, West Colfax Avenue at the northern end, Cherry Creek on the eastern side as well as the South Platte River on the west side. Interstate 25 runs north-south via the western part of the community.
We Stand Behind the Work that We Do
For our experienced technicians, plumbing is the art and science of making sure that your systems are sound and operating correctly. We take a creative approach to problem-solving, as no two situations are identical.  Whether it is a toilet replacement, or any other type of plumbing situation or problem, be assured that we will take care of the problem as soon as possible.
We offer honest and trustworthy services
24/7 emergency services are available
We warranty all of our work with a one-year warranty
We pride ourselves on our hard work and craftsmanship
Our work reflects our skills as experienced technicians
Some of the many reasons why our customers love the work that we do include:
Coming Up with Alternative Solutions
At Drain Pros Plumbing, we live up to our name because of our ability to come up with solutions to every problem that are affordable and efficient. Our Denver plumbing company is fully committed to ensuring the optimal function of your pipes and plumbing appliances, which is why customers rely on us to provide them with efficient solutions that they can count on.
Types of Plumbing Services We Offer
Offering 24/7 Emergency Services
Should you be faced with a plumbing emergency, the two most important things to do are to stay calm and to reach for the phone. We are available at all hours of the day to tackle virtually any emergency service that you are facing.
If you have a burst pipe, make your way to the water shut-off valves as soon as possible, if it is safe to do so. Suspending the use of any of your plumbing fixtures is the best thing you can do until we arrive. Since we are the best plumbing services company in Denver, your safety is very important to us.  This is why you should call us today for a plumbing service estimate from Denver's top rated plumbers.